Satisfaction Level of Athletes Regarding Sports Facilities at Collage Level in Bahawalpur Pakistan
Keywords:
Athletes, Sports, Facilities, Satisfaction
Abstract
The main objectives of the study were to examine the influence of internal and external factors on the satisfaction level of athletes and to find out the most dominant factors affecting college sports in Government and private colleges in Bahawalpur District, Pakistan. The researcher created 10 hypotheses to examine the objectives of the study. Male and female athletes, government, and private college controlled sport were selected as part of the study. A 20% representative sample was taken from both male and female athletes, but the total population consisting of sports directors from both colleges was taken according to the Gay formula (1985). A representative sample of 100 was selected using a convenient sampling method. A self-development questionnaire was used to collect data. The validation process, test cases and reliability were performed accordingly. The questionnaire was personally distributed to all respondents. The returned responses were analyzed using SPSS version 20 and Excel Micro software. In the first step, the researcher used descriptive statistics that showed the frequency, percentages and averages of the responses. Second, the researcher used unpredictable statistics to examine formulation hypotheses. The results of the study were drawn based on the analysis of the data. The data showed that all internal and external factors are in both --colleges and have had a significant impact on the athletic satisfaction of athletes in Bahawalpur -- colleges in Pakistan (P> 0.05). However, the impact of all internal and external factors was found to be greater in private colleges compared to Government College. Regarding dominant factors among internal and external factors, both in public and private colleges, it was concluded that inappropriate training and participation of athlete training dominated internal factors and family influence among external factors affecting sport at both colleges in Bahawalpur district, Pakistan. It is recommended that the relevant authorities should provide all facilities for athletes to increase student participation in sporting activities at college level.
References
African American Students: A Pilot Study. Recreational Sports Journal, 33(1). 25-34.
Antonio, J. (2011). How construction trends of Universities sport facilities will be affected by financial crisis: A survey. Scientific Research and Essays. 6(9), 1998-2002.
Arslan, Dilawar (2010). Research information and recommendations to improve sports facilities in college. Thesis report submitted to the Superior College Lahore.
Bargchi, M. (2010). Exploratory research on sports facilities construction in Malaysia. Australian journal of basic and applied sciences. 4 (10), 5326-5331.
Bogar, Craig. T. (2012). Trends in Collegiate Recreational Sports Facilities. The sport Journal. Pp.15.
Business Management (pp. 425-428). Chengdu. Scientific Research Publication.
Dabas, Chandra, Sarkar (1982). The Survey of Facilities and Equipments of Sports in Engineering Colleges in West Bengal Unpublished Master"s Thesis, Laxmibai National Institute of Physical Education, Jiwaji College, and Gwalior.
EKURI, P. K., EDIM, M. E., ODOK, E. A. (2014). Predictive Variables Influencing
Feng X. (2008). Assessing the Economic Impact of Sports Facilities on Residential Property Values: A Spatial Hedonic Approach. North American Association of Sports Economists working paper series 08-12.
Hui, Zhou. (2010). Research on relationship between College Sports Facilities and Mass Sports. The Conference on Web Based
Ishak, I. S., & Alias, R. A. (2005). Designing a strategic information system planning methodology for Malaysian institutes of higher learning (ISP-IPTA): University Teknologi Malaysia.
Lidor, R., Melnik, Y., Bilkevitz, A., Arnon, M., & Falk, B. (2005). Measurement of talent in judo using a unique, judo-specific ability test. Journal of Sports Medicine and Physical Fitness, 45(1), 32.
Robert, Lindsey (2012). Impact of Campus Recreational Sports Facilities and Programs on Recruitment and Retention Among
Sawant, S. (2014). MOOCs as a means of continuing professional development for LIS educators in India.
Students Participation in Combative Sports in Nigeria. International Journal of Secondary Education, 2(3), 48-51.
Wang, J.-S., LAN, C., & Wong, M.-K. (2001). Tai Chi Chuan training to enhance microcirculatory function in healthy elderly men. Archives of physical medicine and rehabilitation, 82(9), 1176-1180.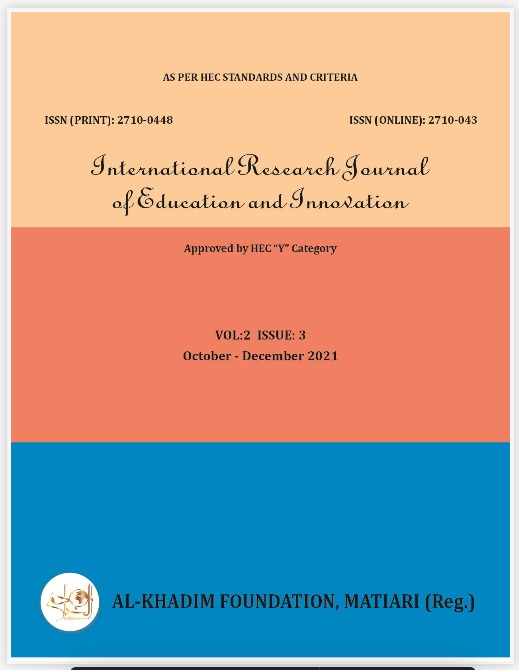 Downloads
How to Cite
Mahmood, M. Z., Farooq, A. ., & Ashraf, M. . (2021). Satisfaction Level of Athletes Regarding Sports Facilities at Collage Level in Bahawalpur Pakistan . International Research Journal of Education and Innovation, 2(3), 1–14. https://doi.org/10.53575/irjei.v2.03(21)1.1-14